Our School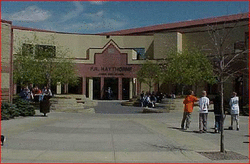 F.R. Haythorne is a beautiful, well resourced urban junior high school (grades 7-9) of approximately 700 students.   We are located in Sherwood Park, Alberta, Canada - a suburban community just east of Edmonton, Alberta's capital city.
Follow us on twitter @FRHaythorne
No Child Without: Free MedicAlert for students
In our ongoing effort to provide safe and caring schools for our students, FR Haythorne is once again participating in the Canadian MedicAlert Foundation's No Child Without program.

Mission Statement
As evidenced in the excellence of our educational programming, the varied extra curricular experiences afforded our students, and the richness of our daily interactions with each member of our school community, it is our commitment...
To build a climate of respect and honesty in which individuals feel valued and supported in their efforts to achieve academic and personal success.
To balance opportunity and experience, in recognition of the importance of developing the whole person.
To strengthen the personal integrity of each individual by encouraging a commitment to the pursuit of his/her personal best.
School Education Plan 2018-2021
Here is our 2018 - 2021 School Education Plan (Year 1): School Education Plan 2018 - 2021
Emergency Preparedness
In the event of an emergency, Elk Island Public Schools and F.R. Haythorne Jr. High School have procedures in place. Please view our Emergency Preparedness & Response Guide.
Public Information
Switchboard (780) 464-EIPS (3477), Mon-Fri, 8:30 a.m. to 4:30 p.m. (recorded message after office hours)
After Hours Calls/Facilities: (780) 417-8122
For assistance with Fire, Ambulance, or R.C.M.P., call 9-1-1.