Back to all posts
Posted on
19th Annual Hawk Film Festival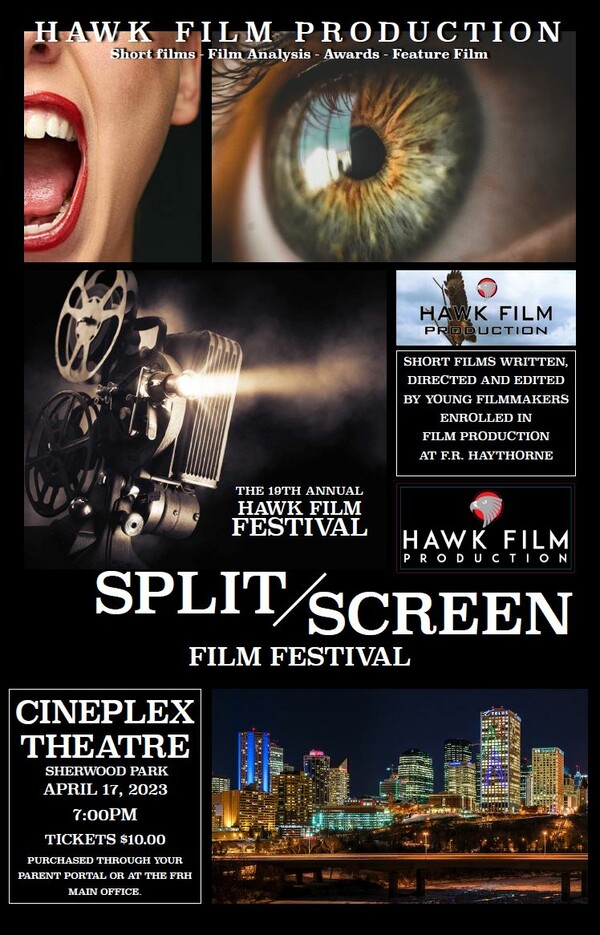 THE HAWK FILM FESTIVAL
"SPLIT SCREEN"
CINEPLEX SHERWOOD PARK
MONDAY, APRIL 17TH
7:00PM (DOORS OPEN AT 6:00)
Tickets will be available for FILM PRODUCTION families ONLY from Monday, March 20th to Monday, April 3rd.  Families will be able to purchase Festival Passes through their PowerSchool Parent Portal.  Festival Passes are $10.00 each.  Friends and families of students enrolled in Film Production will have the first opportunity to purchase Festival Passes.  Any remaining passes to the Festival after April 3rd will be available to any other students and families at FRH.
Festival passes will be delivered to students right after spring break.
This very special event is very popular and is expected to sell out quickly.  Please be diligent and get your passes as early as possible to avoid disappointment.
NOTE: Due to upgrades at Cineplex Sherwood Park we will be having the Festival in two theatres (#1 and #2). Your Festival Pass will be clearly marked for Theatre #1 or Theatre #2.  Movement between theatres will not be allowed.  If you have a friend or family member who requires wheelchair seating please inform Mr. Drozda and a space will be reserved for them.
Thank you for attending and we look forward to seeing you back at Cineplex for this outstanding event!
* * * * * * * * * * * * * * * * * * * * * * * * * * * * * * * * * * * * * * * * * * * * * * * * * * * * 
You can access your PowerSchool Parent Portal account through the Parent Quick links at the bottom of the EIPS website or click here.  Once you are logged into your account:
Select "Student Fees" from the menu on the left hand side of the screen.
Click on your child's name.
Click on the Hawk Film Festival icon and complete the order form.
If you are using a credit on your child's account to pay for your order, please be sure to complete the confirmation process outlined at the bottom of the order form.
You will receive a receipt as confirmation of your order.
You can also view your receipt(s) by selecting "receipts" from the top right menu on the main page for student fees.
Should you have any questions or are having difficulties accessing your parent portal account, please contact the school office at 780-467-3800.