Information Evening for Incoming Grade 7 Students
Our Grade 7 information evening will be held on April 9 at 6:00 pm. All incoming grade 7 students as well as any other students who will be new to F.R. Haythorne for the 2019/20 School year, along with their parents are invited to attend. You will have the opportunity to tour the school, meet teachers and visit with each other.
Incoming grade 7 students will pick up their option packages so they can take them home to go through with their parents. Please read the package over carefully, choose your options and return the package to your elementary school by April 23. After that date, please return it directly to F.R. Haythorne. We hope to see you all then!
2018-19 EIPS Parent Survey: We Want to Hear from You
Elk Island Public Schools (EIPS) is committed to ensuring all parents and guardians of students within the Division have a chance to share their thoughts on the overall performance of their school and the Division. One of the ways EIPS ensures its parents' voices are heard is by conducting an annual parent survey.
F.R. Haythorne encourages all parents and guardians to take a few minutes to complete the brief online survey. It will only take a few minutes and will help to supplement the Division's Accountability Pillar Survey data. Plus, new this year, the survey includes questions about cellphones and personal devices. Your feedback will help the EIPS Board of Trustees develop a policy about cellphones and their use within the school.
Survey closes March 29
The feedback gathered will help the Division measure its progress towards meeting the goals and priorities outlined in the EIPS 2018-22 Four-Year Education Plan and develop strategies to better serve its students and the wider community.
NOTE: The survey is anonymous and only takes a few minutes to complete. If you want to share the experience of more than one child attending an EIPS school, simply complete the survey again.
Thank you for your participation.
Cyber Friday
Does your child have a cell phone? Many do, but how often do you look at your child's phone.  Parents are often reluctant to look as they worry that they are invading their child's privacy, or they will think they don't trust them. Monitoring your child's cell phone is not spying, it's parenting.  Legally as the owner of the phone, you are responsible for everything that happens on it.  Monitoring and support help our children learn how to use cell phones responsibly.  Below are some website to help you:
Text Slang all Parents Should Know
10 Best Tips for Cellphone Safety for Tweens & Teenagers
Restricting Apps, and Camera
Need ideas for a cell phone contract?
Cyber Friday
So what is Snapchat? Snapchat is an app that allows students to share "snaps" of everyday moments that are meant to disappear after being viewed.  It contains filters that help make your photos more fun. Don't be misled,  this fun app can pose risk. Snaps may disappear after 10 seconds,  but that doesn't prevent someone from taking a screenshot. As with any social media, people need to be careful about what they share.  Posting photos that disappear right away, may seem harmless at first but once something has been shared you no longer are in control of it. You may hear your teen talking  about streaks, filters, or Snapcodes. These are all features of Snapchat.  Many teens will exchange snaps back and forth with a friend to build a streak.  Even FRH teens has reported sharing their password with a friend to have them help continue their streak.  Read more about Snapchat and how teens interact with it.
FRH Basketball
Click HERE for the basketball practice times!
Animal Rescue Donations
"Happiness doesn't result from what we get, but from what we give."
Starting this week and continuing until Christmas break, the Haythorne  Animal Rescue Crew will be collecting food and supplies for animals in need. If you are able to donate just place the item under one of the pet themed Christmas trees in the front foyer. Check out the Wish Lists located in the same area for donation ideas. All items collected will be donated to various Animal Rescue Organizations around the Sherwood Park and Edmonton area. New and used blankets are also being collected. These are donated to dogs in some of the northern Alberta pounds awaiting rescue. With the donation of a blanket they do not have to sleep directly on a cold concrete floor.  Any donations are appreciated!
The Hawk's Nest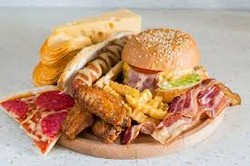 The Hawk's Nest is now open on Early Dismissal days.
Menu for week of:
Division News