Back to all posts
Posted on
Western Beef Jerky Fundraiser is Now Underway! (November 14-25, 2022)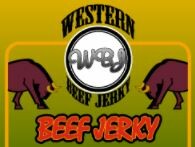 We are excited to be doing our annual fundraiser again for the upcoming Hawk Film Festival being held this year on April 17th at Cineplex in the Sherwood Park Mall. This is a HUGE event for our school each year and we are lucky to have a great business that supports our program each year with Western Beef Jerky.
Western Beef Jerky has been a partner of ours for the last 18 years and has always been able to provide us with a great quality product! 
The jerky comes in 5 delicious flavours…
REGULAR – Straight jerky… that's it.
TERYAKI – A sweet dark jerky.
HOT – Jerky with a bit of a kick. (Not overpowering by any means)
KIPPERED – A thick, soft, flavourful jerky. (A class favourite for sure)
HOT KIPPERED – Same as the Kippered, just with a bit of heat.
The jerky is sold in 1-pound packs for $25.00 each. The great people at Western Beef Jerky have frozen our prices for the past 5 years for this fundraiser! The price of beef has risen substantially, but our price of $25.00 remains the same this year. We are very grateful for this.
As well, they are also providing us with the opportunity to purchase their great smoked garlic sausage for just $15.00. Perfect for the holidays.
All proceeds will be going to support the Film Production Program and the Hawk Film Festival!
Orders will be live on your PowerSchool Parent Portal from November 14th to November 25th.
Orders should be processed and delivered to your child on December 9th.
You can access your PowerSchool Parent Portal account through the Parent Quick links at the bottom of the EIPS website or click here.  Once you are logged into your account:
Select "Student Fees" from the menu on the left hand side of the screen.
Click on your child's name.
Click on the Western Beef Jerky icon and complete the order form.
If you are using a credit on your child's account to pay for your order, please be sure to complete the confirmation process outlined at the bottom of the order form.
You will receive a receipt as confirmation of your order.
You can also view your receipt(s) by selecting "receipts" from the top right menu on the main page for student fees.
Should you have any questions or are having difficulties accessing your parent portal account, please contact the school office at 780-467-3800. 
Thank you for supporting Hawk Film Production!